Our standard line of programmable hydraulic presses ranges from 3-ton to 12-ton capacity, and we can make custom presses of any capacity.
For all of these, however, both standard and custom jobs, we typically install some standard components such as light curtains and palm buttons. You can see those being tested on a custom press in this short clip.
Standard Models:
VSP – 0300 -(3 ton force smart press)
VSP – 0500 -(5 ton force smart press)      VHP – 0500 -(5 ton force)
VSP – 0800 -(8 ton force smart press)      VHP – 1000 -(10 ton force)
VSP – 1200 -(12 ton force smart press)    VHP – 1500 -(15 ton force)
VP Series Technical Data
Allen Bradley Control System
Fully programmable (smart press only)
460V power source
Adjustable Bottom Table
40 in press stroke standard (24 in for smart press)
Ram repeatability +/-.001
High speed 0-12in.sec
80 in maximum opening standard
Linear rail + bearing guides
Press heads custom as needed
Self contained hydraulic system
Low noise level 75-80 db.
We often build heavier duty  presses, with hundreds of tons of pressing capacity.
Machine Uses & Options:
Universal Assembly Press
Run various dies – Combine with an order for die tooling to get a die press
Pressing & Welding – Combine with an order for an automatic welding to combine a press & weld operation in one machine
Muffler Sub Assembly – We can build presses specialized for assembly of muffler components
Hydraulic Presses Vs. Electric or Pneumatic Presses
We've been getting more interest in electrically actuated presses lately.  Certainly, electric actuators are great in terms of energy efficiency and they interface well with programmable logic controllers.  In fact, we're always happy to get projects that require electric actuators.
However, electric actuators have some limitations.  For example, an electric actuator that can handle a 20 ton press repeatedly is bulky and expensive compared an equivalent hydraulic system.
On the other end of the spectrum, we also make light pneumatic presses.  Consider a case where a simple pressing operation is called for, which only requires a few tons and don't need position feedback.  That's when pneumatic press is often the most cost-effective solution.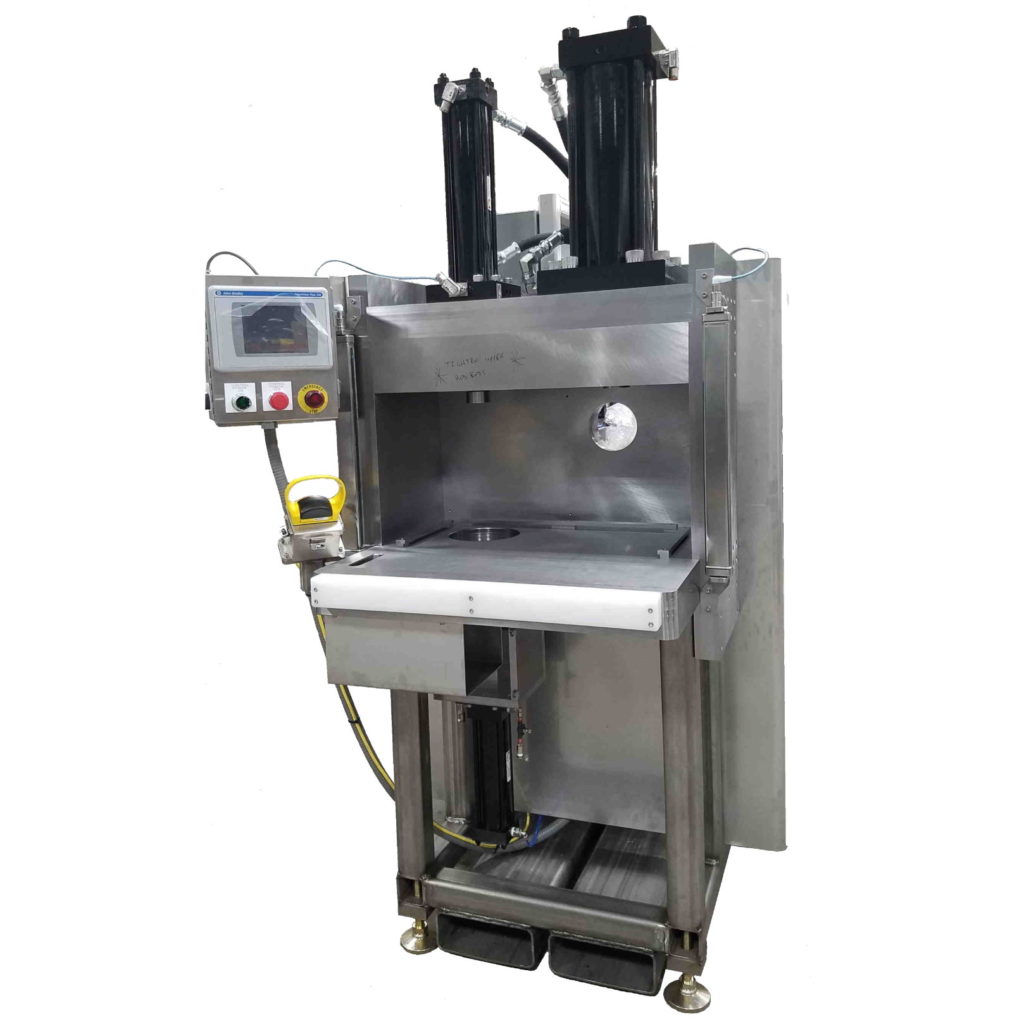 Since West Salem Tool and Die makes a lot of tooling, we typically equip our presses with the tooling they need. Whether that tooling ships with our press or goes out as a retrofit to an existing press, we are able to meet your tooling needs.
As a Wisconsin-based company, our primary market consists of manufacturers in the Upper Midwest. However, our location in La Crosse, at the intersection of I-90 and the Mississippi, means that we can easily have a press delivered anywhere in North America.